The combination traditional-modern changes this cottage into the well suitable place for relaxation, fishing, hunt and hiking. At the end of the vacation time, the beautiful memory remains for the ones ones, that were there.
Ghiocelul cottage is run route distant from Fogarascher mountain driving - and 1,5 hours 15 minutes. From there, one goes as far as to the top uphill. The first cottage, that you find on the way, Barcaciu.
From Barcaciu cottage, several branch themselves: in direction of Avrig-See gives it a 3 hour of way, at the Avrig along, where one can admire the beautiful water cases; in direction of Negoiu, 2-3 hours on the crest or 6-7 hours at the Avrig-See past, where the wonderful landscape can have viewed.
From Barcaciu, one can go in direction of Scara-Peak (2375 m), about 3 hours off, or to the Suru-Peak (2291 m), at the Avrig-See past. For the route Avrig-See - Suru requires about 4 hours one.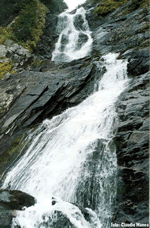 If however, you didn't like into the mountains, you can a walk at the Avrig along does. The Flu, is only 50 m from Ghiocelul cottage off. You can look our trouts, who offer an unique drama to meal, at you. You can the beautiful area when riding or, in the winter, from the horse sleigh genie(en. At the Avrig or the river Olt, 8 km of Ghiocelul off, one can even fish.